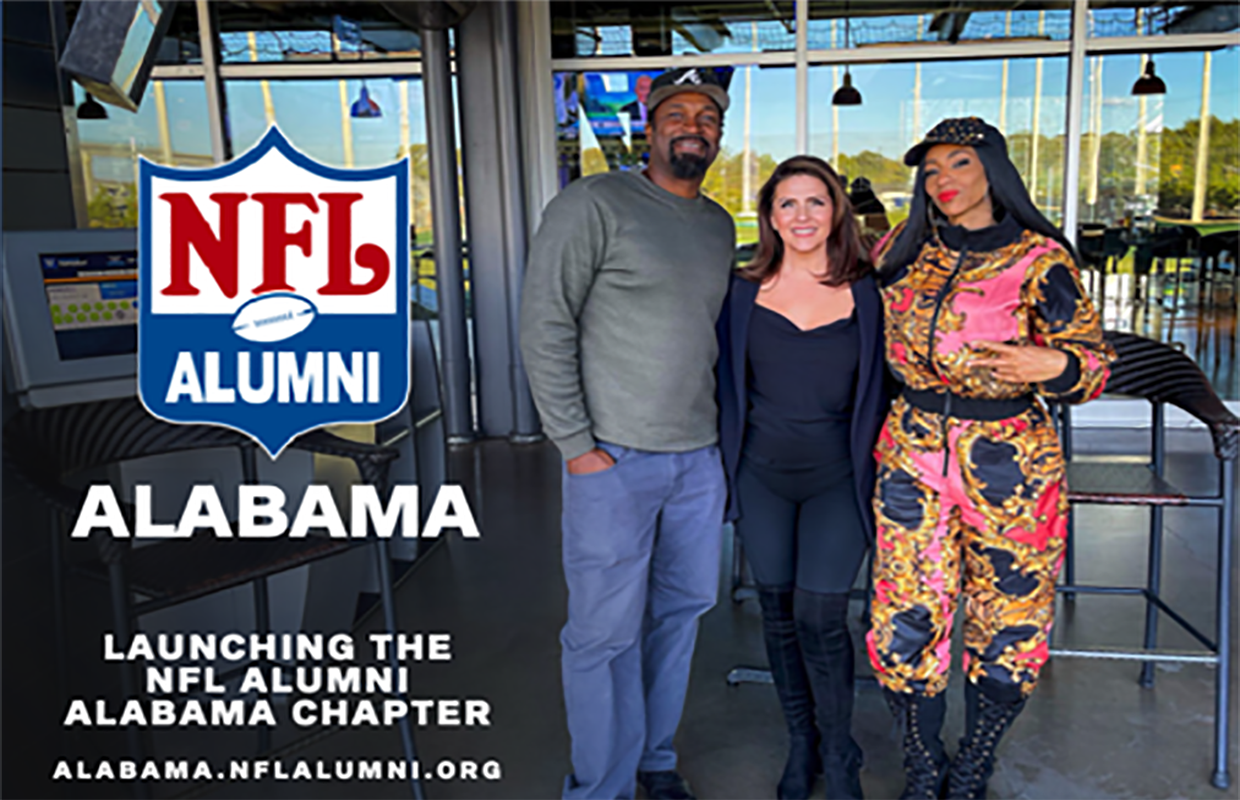 Former Miami Dolphin, Kendall Newson and Sonya Bailor, CEO of Huntsville's management and marketing consulting firm, the Bailor Group, have launched an NFL Alumni Alabama Chapter
HUNTSVILLE – Former Miami Dolphin, Kendall Newson brought on Sonya Bailor, CEO of Huntsville's management and marketing consulting firm, the Bailor Group, to step in and help launch an NFL Alumni Alabama Chapter. The chapter's first meet and greet is an Iron Bowl Watch Party in Birmingham November 26, 2022.
After weeks of talks with Bailor about how to effectively launch a growth strategy for the new chapter, Bailor was named Alabama Chapter Liaison and asked to serve on the new board.
Newson, who is retired from the NFL, is currently a professional Bass Pro Angler and the new NFL Alumni Alabama Chapter president.
Bailor has prior experience through both her personal life and business endeavors with NFL affairs, after serving on the launch team for School of the Legends, a social platform previously through the NFL Players Association, that has stayed in contact and in collaboration with many former NFL players.
She was referred to Newson by the president of the Tennessee Chapter of the NFL Alumni Association, Al Smith.
According to a press release, Bailor's company helps organizations with their internal scalability as well as scaling them externally and Newson felt it was a great fit to have her join forces with he and the other board members to get the Alabama Chapter launched and in growth-mode.
Bailor has served on several nonprofit boards helping children and women prevent and recover after abuse, as well as education and cancer programs.
She is a public speaker and has a mentoring program to help level up the next generation of leaders.
"I am proud to get to serve on the initial board of the NFL Alumni Alabama Chapter," said Bailor. "To get to help get this chapter off the ground from the beginning and be a pivotal part of its launch and initital growth is exciting."
Newson is well versed in sports marketing, business, coaching and non-profit community work. He loves all things involving the outdoors and will be active in prepping the Alabama chapter for golfing, fishing, football camps, and other community and charitable events.
His goals and vision for the Alabama NFL Alumni chapter include providing life and business tools for the past player brotherhood and creating exceptional events to engage the community and raise much-needed funds for those in need.
Other members of the Board include former NFL player Donald Hayes as Chapter vice president; former professional sports and celebrity representative, Jason Barr as Chapter treasurer/secretary; and Newson's wife Tiffany who is a fashion and beauty stylist as membership director.
Bailor will sit on the board for the first three months of its launch to assist in ensuring that this chapter has its best opportunity to gain launch traction.
Real original article here: https://256today.com/nfls-kendall-newson-and-huntsville-ceo-sonya-bailor-launch-nfl-alumni-alabama-chapter/